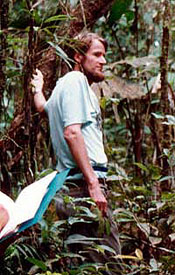 Curator David Neill has been the Garden's resident botanist in Ecuador since 1985. At the Amazon Plant Conservation Center, Neill works with local residents and indigenous peoples to develop and promote sustainable agroforestry techniques to help them conserve and profit from their natural resources. The Center is located at the Jatun Sacha Biological Station, a 5,000-acre reserve owned by a non-profit Ecuadorian foundation that Neill helped to develop. His research focuses on Fabaceae, the bean family, legumes, and inventories of the diversity of trees in the forests of Ecuador.
Photo: Mercedes Asanza

In Ecuador, the Garden helped to establish the Amazon Plant Conservation Center to provide training in sustainable agriculture for local farmers and education programs for children. The Ecuadorian government has used Garden research data to help decide which areas to set aside as national parks and reserves. At the National Herbarium in Quito, the Garden's resident botanist offers on-the-job training in research and conservation techniques for young Ecuadorians, and the program has been expanded to provide internships and study grants.

Developing nations are urgently seeking the tools to address their conservation concerns, but the world has been slow to respond. Despite the best intentions of many organizations and governments, conservation as a concerted, worldwide agenda is still in its infancy.

In response, the Garden's Center for Conservation and Sustainability is providing leadership. The Center fosters support and cooperation among partner institutions, government agencies, and non-government organizations. By building on the Garden's expertise, resources, and influence, the Center promises urgently needed hope for the future.