In Madagascar, Garden researchers and local institutions use the research capacity they have developed together to conduct intensive, targeted studies of the island's priceless treasure trove of unique species. The results are immediately useful to decision makers in natural resource conservation.

The Garden works closely with colleagues in Tanzania to train residents in research methods and how to apply them to their conservation activities. The program has had remarkable success in establishing collaboration and a sense of purpose among people who had been working in isolation.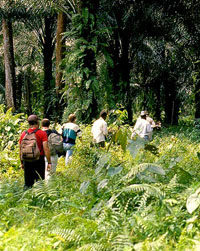 Botanical exploration provides essential scientific data about what grows where, a key to conservation efforts.
Shown: A tropical forest in Cameroon.
Photo: Daniel Harder



Garden botanist Roy Gereau, center, and staff of the National Herbarium of Tanzania conduct a workshop in plant identification for local plant collectors and herbarium techniques.
Photo: Peter Phillipson
Matrix of Life: 1 | 2 | 3 | 4 | 5 | 6 | 7 | 8 | 9 | 10 | 11 | Next Section >>
Text and photos from "The Unseen Garden" available from MBG Press.