In 1890, Albert Spear Hitchcock boarded a ship and launched an era of exploration. Traveling to the Caribbean, he became the first Garden staff member directly involved in collecting botanical specimens in the tropics. More than a century later, Hitchcock's adventurous spirit and hunger for knowledge live on through the Garden's global research program.

Botanists spend much of their time in the field, living and working in remote locations. Every year, Garden researchers collect about 150,000 plant specimens and describe about 200 new species.

Discoveries in botany are rarely dramatic. Rather, they result from painstaking observation and research. Often, the collector doesn't really know what he or she has until it is studied in a laboratory and matched against botanical reference.

Collaboration is the hallmark of the Garden's research program. Without exception, work is conducted in partnership with institutions in host nations - the overall goal is to strengthen their institutions and form partnerships that serve the needs of all. In several countries of exceptional biological importance - Bolivia, Costa Rica, Ecuador, Paraguay, Peru, Madagascar, and Vietnam - the garden maintains resident curators who live and work there.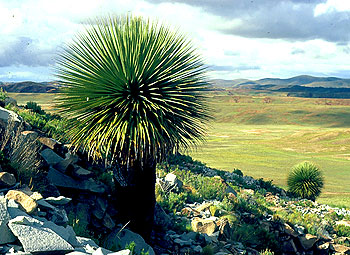 In Bolivia, the Garden's resident botanist collaborates with local institutions to carry out explorations, floristic studies, and a botanical training program.
Shown: Puya raimondii, Cerro Comanche, Bolivia.
Photo: James Solomon