VINH PHUC
Total Area:
1,362 sq.km
Population:
1,091,973
Provincial Capital:
Vinh Yen
Districts:
Lap Tach, Vinh Tuong, Yen Lac, Tam Dao, Me Linh
Economic potentialities: forestry, agriculture.
PHYSICAL Vinh Phuc is located in the North Vietnam Plains and Midlands.
ETHNIC DIVERSITY The main ethnic group to populate this area is the Kinh; there is also a small proportion of Muong, Dao, San Chay, and San Diu.
CLIMATE The annual average temperature is 24°C.
OTHER Famous sites include Tam Dao Resort, Dai Lai Lake, Ao Cham Pond, and sec bua folk singing of the Muong ethnic group.
---
Click on the image to see a larger image.
All images on this site: Dan Harder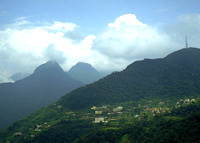 Tam Dao mountain and village