Main | Family List (MO) | Family List (INBio) | Cutting Edge
Draft Treatments | Guidelines | Checklist | Citing | Editors
The Cutting Edge
Volume XXVII, Number 1, January, 2020
News and Notes | Leaps and Bounds | Germane Literature | Season's Pick
Having received fine images of Ipomoea batatoides Choisy (Convolvulaceae), from two different sources, that in large part span both its distribution and phenology in Costa Rica, we hereby declare that sp. the winner of this season's coveted "Luffa de Oro" prize!
Ipomoea batatoides is a large liana that is rather widespread in the country, known (according to the Manual) up to 2250 m elevation, on both slopes, and from most of the cordilleras and llanuras. The first series of images came to us from Manual co-PI Nelson Zamora in mid November of last year, when he was in the Reserva Biológica Hitoy Cerere.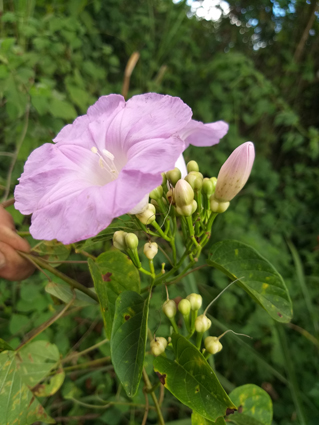 The other image is from occasional correspondent Miguel Méndez, manager of the Reserva Natural Monte Alto on the Península de Nicoya, who sent his just at the beginning of January of this year. Getting photos of this sp. has been on the bucket-list of co-PI Barry Hammel for quite some time, but so far the goal has eluded him. As far as we know, these are the first of live plants, in full bloom, for Costa Rica. We are not sure if either correspondent made a voucher, but by virtue of the globose calyx (strongly convex sepals) and pink corollas, clearly visible in these photos, we are confident of the determination. Thanks to Miguel and Nelson for providing the photos.
TOP