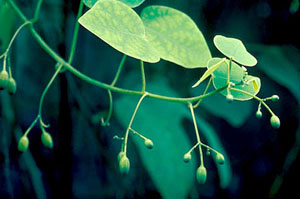 View Larger Image 43k

Photographer: John MacDougal

Taxonomy: Tribe Passifloreae, Adenia sp.
This tribe includes 11 genera: Adenia (~100 spp.), Ancistrothyrus (3), Basananthe (25), Crossostemma (2), Deidamia (8), Dilkea (5), Efulensia (2), Hollrungia (1), Mitostemma (3), Passiflora (~500), and Tetrapathaea (1). They are usually tendril-bearing vines or lianas. Adenia is found from Africa to Malaysia and Australia. Its habit varies from rain forest lianas to shrubs of deserts and savannas.