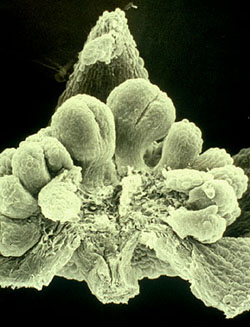 The most extraordinary discovery of Flora Mesoamericana is a tiny, threadlike plant from southern Mexico, which is absolutely unique among the 250,000 species known to science. Lacandonia schismatica is the only plant ever discovered in which the orientation of the sex organs is reversed, with stamens arising within rings of pistils. The plant was collected by Estéban Martínez of UNAM, Universidad Nacional Autónoma de México.
Photo: Electron micrograph by Mike Veith
One of the most ambitious floristic projects ever undertaken, Flora Mesoamericana describes the incredibly diverse vascular plants of the region that links the two great land masses of North and South America. The rugged terrain of the region includes a vast array of habitats, narrow vegetation zones, and fragile ecosystems threatened by rapid deforestation. Mesoamerica encompasses southern Mexico, including the Yucatán Peninsula and the states of Chiapas and Tabasco, plus Belize, Guatemala, El Salvador, Honduras, Nicaragua, Costa Rica, and Panama.
When complete, Flora Mesoamericana will describe some 17,000 species, the most extensive botanical work in Spanish. The Missouri Botanical Garden, Instituto de Biología, Universidad Nacional Autónoma de México (UNAM), and The Natural History Museum, London, collaborate to direct and co-publish the project. Two of the projected seven printed volumes have already been published. The project is accessible online at www.mobot.org/MOBOT/research/mesoamerica.html.