The Garden and more than 30 U.S. and Canadian institutions are collaborating on a printed and computerized inventory of the 21,000 species of plants of North America north of Mexico.
Garden bryologists conduct inventories of mosses of selected regions, including Maine, the Ozarks, and the Great Plains, and prepare treatments of families of mosses for the flora.
The Garden is collaborating with the University of Missouri-Columbia to develop standards for accurate identification of plants used in dietary herbal supplements.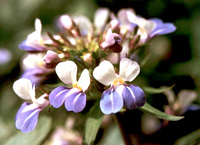 Collinsia verna Nutt.
"Blue-eyed Mary"
Native to Missouri