Flora of the Venezuelan Guayana
General Editors: Julian A. Steyermark, Paul E. Berry, Kay Yatskievych, and Bruce K. Holst
Volume Editors: Paul E. Berry, Kay Yatskievych and Bruce K. Holst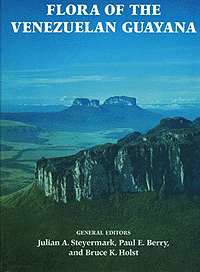 The Flora of the Venezuelan Guayana is the first full scientific account of a botanically rich and geologically ancient part of South America. The Venezuelan Guayana lies in the center of the Guayana Shield and is dominated by massive table mountains known as tepuis. From these imposing mountains fall the highest waterfalls in the world, such as Angel Falls on Auyán-tepui. It is a region of great beauty, still largely pristine, which includes other diverse habitats such as the swamps of the Orinoco Delta, the upland Gran Sabana, large extensions of lowland tropical forest, and the peculiar white-sand savannas and shrublands of the upper Río Negro. More information about the geography, history, vegetation, and conservation issues can be found in a summary of Volume 1.
Botanical explorations in the Guayana Shield region have resulted in the recognition of hundreds of new species, dozens of new genera, and several new families of plants, many of them only known to occur there. Volumes 2 through 9 contain the floristic treatments for the Venezuelan Guayana. These provide full taxonomic descriptions for each family and genus. For each of the nearly 9,400 species and their subordinate taxa, there is an entry that provides information on the plant's habit, habitat, elevational range in the flora area, detailed locality data, and common names and uses. Identifications are facilitated by dichotomous keys to the genera, species, and infraspecies; close to 5,000 species are illustrated by black-and-white line drawings, at least one for each genus. The families are arranged alphabetically in two main categories: the ferns and fern allies, and the seed plants. See Appendix A for a list of the families treated and the number of genera and species in each family. Volumes 1 through 6 have been published, and the rest are anticipated to be published at the rate of approximately one or two per year.
The complete treatments for Annonaceae, Bignonaceae, and Clusiaceae are online, along with the line drawings from the published volumes.
---
Published Volumes
All Volumes can be ordered directly from the MBG Press Online Catalog
Vegetation and Topographical Maps of the Venezuelan Guayana (included with Volume 1 but may be purchased separately).
Volume 1. INTRODUCTION
Published 1995. ISBN 0-88192-313-3. 320 pp. of text, plus 44 pp. of color plates, 10 black-and-white photos, and 51 line drawings (includes Vegetation Map and Topographical Map, above).
Volume 2. PTERIDOPHYTES, SPERMATOPHYTES (ACANTHACEAE-ARACEAE)
Published 1995. ISBN 0-88192-326-5. 706 pp., 1285 species treated. 618 line drawings. See Annonaceae for a sample family account.
Volume 3. ARALIACEAE-CACTACEAE
Published 1997. ISBN 0-915279-46-0. 774 pp. 1113 species treated. 628 line drawings. See Bignoniaceae for a sample family account. See Duidaea rubriceps (Asteraceae) and Lindmannia holstii (Bromeliaceae) for photos of two of the species covered in the volume.
Volume 4. CAESALPINIACEAE-ERICACEAE
Published 1998. ISBN 0-915279-52-5. 799 pp. 1329 species treated. 621 line drawings. See Clusiaceae for a sample family account.
Volume 5. ERIOCAULACEAE-LENTIBULARIACEAE
Published 1999. ISBN 0-915279-71-1. 1304 species treated. 707 line drawings.
Volume 6. LILIACEAE-MYRSINACEAE Published 2001. ISBN 0-915279-81-9. 1217 species treated. 657 line drawings.
Volume 7. MYRTACEAE-PLUMBAGINACEAE Published January 2003. ISBN 0-930723-13-X. 1338 species treated. 646 line drawings.
Volume 8. POACEAE-RUBIACEAE Published 30 August 2004. ISBN 0-930723-36-9. 1248 species treated. 659 line drawings.
Scientific Comments:
Paul Berry (peberry@facstaff.wisc.edu) or Kay Yatskievych (kay.yatskievych@mobot.org).