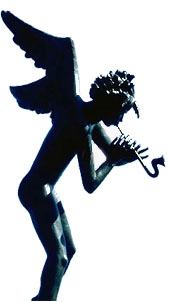 Introduction to the Sculpture at the Missouri Botanical Garden
The Missouri Botanical Garden's collection of sculpture was begun with founder Henry Shaw's gift of the busts of the pioneer naturalists Carl Linnaeus, Thomas Nuttall and Asa Gray as theme ornament above the front entrance of the Linnean House. This, the only greenhouse remaining in the Garden from Shaw's lifetime, was completed in 1882. The three white marble busts were installed in the same year and dedicated June 22, 1883.

The Linnean House architect was George Ingham Barnett, who had done Shaw's house downtown and his country residence, Tower Grove, now incorporated in the Missouri Botanical Garden. The artist for the busts was Howard Sigismund Kretschmar, St. Louis' first sculptor with formal training and a full-time practice.

Sculpture has become an increasingly familiar discovery throughout the Garden during the last two decades, in pathside recesses, in water basins, in open spaces. Pieces owned by the Garden are the gifts of generous friends, some donating the art, others funds for its purchase. In addition, a few works are on extended loan. Modern and traditional art philosophies are represented.

The collection is systematic chiefly in its objective of exhibiting sculpture in a variety of landscapes for the best advantage to art, setting and viewer. In these harmonies of art and site, some installations might offer useful examples for the placement of art in residential gardens.

Sculptures commissioned by Henry Shaw after the Linnean House portraits were three full figures and six busts for Tower Grove Park, for which he gave most of the land to the people of St. Louis in 1868. Tower Grove was then the city's largest park (exceeded now only by Forest Park). Shaw continued to supervise its plantings, buildings and ornament until his death in 1889.

Henry Shaw was born in 1800 at Sheffield, England, where his father, Joseph Shaw, had established an iron works. His mother, Sarah Hoole, came from a prominent Sheffield family. Although Henry's schooling was interrupted in 1816, he had by then developed an enduring interest in the classics and fluency in French. He accompanied his father to Canada to open trade in the New World, then traveled to New Orleans to pick up a consignment of tools with which he arrived in St. Louis by steamboat in 1819.

His business acumen in the trade of Sheffield wares and products of the American frontier enabled him to retire at 39, and to travel abroad for several years. Meanwhile he maintained a high income from loans secured by real estate and from rents.

Both his garden, opened in 1859, and the park were planted within tracts, more than 700 acres in all, that Shaw had acquired in open country southwest of the city. His interest in founding a botanical garden, and possibly in sculpture for a garden environment, was kindled on a visit to England in 1851, during a tour of the estate of the duke of Devonshire at Chatsworth. Features of this magnificent landscape, created by Joseph Paxton, included the highest fountain jet in Europe and four statues of Carrara marble at the foot of a long cascade, "typical of the works of art the duke had spread through the garden."*

Shaw endowed his institution not only with summit standards for specimen collection and research, but also with his personal vision of a garden as a boon beyond science -- as a means of awakening the human spirit to a joyous experience of nature and to appreciation of plant life as among the earth's foremost marvels.

Shaw's choices of art reflect the popular attitude of his time that sculpture, or statuary in the usual reference, had narrowly defined purposes. Sculpture was expected to inspire and instruct, to represent its subjects with faithful likenesses, and to be ornamental.

In the Garden and particularly in the Park, the pieces to which Shaw devoted close attention to concept and pictorial details when he commissioned them were, all but one, tribute portrayals of men whom he admired and whose intellectual achievements were historic. The exception is his own recumbent tomb portrait, which elegantly but modestly follows traditions of funerary sculpture in his native England.

The two other figures that he ordered for the Garden, both installed in 1887, were copies of pieces in Italian museums, done in white marble by Carlo Nicoli, a carver at Carrara. One was reproduced from the Farnese Juno, fifth century B.C., in the Naples National Museum. The image of the legendary protectress of marriage was made the majestic centerpiece of a sunken garden approximately on the site of the present Gladney Rose Garden, where it stood prominently in the view of visitors who had just come in through the earlier version of the Flora Gate. Later, Juno presided over the Italian garden, which was displaced by the Climatron ®; and it has been relocated several times since then.

The other Nicoli reproduction is Victory (of Science over Ignorance), from a figure by one Consani in the Pitti Palace, Florence. It is in the octagonal building of limestone and glass that Shaw had intended for his tomb but relinquished for the burial chamber of red granite and glass in the Mausoleum Garden.

Shaw paid for his sculptures from personal funds, and after his death the Garden addressed more pressing concerns. The transition for Victorian formality to a more free-flowing and natural landscaping was inaugurated between 1913 and 1920 by the landscape architect John Noyes, then on the Garden staff. One of his projects was to rebuild three pools of the early 1890s in front of the Linnean House in which Victoria water lilies grew to spectacular size, their broad pads buoyant enough to support the weight of a child or two (and, as shown in one photograph, a young lady in a frilly white dress, playing a violin).

A major axis of the Garden from Tower Grove House to the Linnean House bisected this much-admired pool, but what was originally a clear view from one of these landmarks to the other became obstructed by plant growth, especially in the area of the Knolls (southwest of Spink Pavilion). Under the current master plan by Geoffrey L. Rausch of Environmental Planning & Design, Pittsburgh, the axial vista was reopened as an important unifying element. Rausch refurbished the three Linnean House pools and added a fourth at the east end with a gift from the John S. Swift Company Charitable Trust. Sculptures by Emilio Greco and Sirio Tofanari are at opposite ends of this line of pools.

For nearly a century directors of the Garden left Shaw's statuary largely as they found it. There is a story that his immediate successor, William Trelease, had no fondness for the small obelisk that Shaw apparently had ordered in 1883 for a site in front of the Museum building and installed later as a tribute to Thomas Nuttall, English-born naturalist and explorer of North America.

At a meeting of the Board of Trustees Trelease is said to have mentioned that he thought the approach to the library would be improved if the obelisk were moved about 12 feet. "Which way?" one of the Trustees asked. "Straight down," replied Trelease.

The present era of sculpture in the Missouri Botanical Garden is traceable to two large exhibitions from St. Louis collections hosted by the Garden. The first was a St. Louis Bicentennial event in October 1965, when David M. Gates was director. Thirty pieces from 1880 to the current year (Aguste Rodin to George Rickey) were loaned by the St. Louis Art Museum, the Washington University Gallery of Art, and six private collectors. The show, organized by William N. Eisendrath, Jr., curator of the Washington University collections, was set up in borders and within the pools between Spink Pavilion and the Climatron®;. The city's first public exhibition of superb art joined with a superlative garden setting was warmly acclaimed.

Some of the pieces made a return visit in 1972 for the Garden's Spring Sculpture Festival, with 35 works, again from St. Louis' public and private collections, assembled by collector Nancy Singer. The broader representation ranged from a granite temple figure from South India to contemporary constructions in welded steel -- and notably included two recent bronzes by Henry Moore, the foremost modern sculptor. Works by graduate students of Washington University were displayed in an adjacent area.

In the catalog introduction, the current director of the Garden, Peter H. Raven, observed a significant aspect of sculpture in a garden: "The patterns of the environment set up a rhythm into which the sculpture can blend -- against which it can contrast... the interaction of man and nature."

The historic affinity of gardens and sculpture was recognized anew through the medium of these exhibitions. Unquestionably they helped to prepare the public for immediate appreciation of Laumeier Sculpture Park when it opened in 1976; they stimulated provisions for sculpture in civic and business settings in many parts of the community; and they revived the idea of sculpture in the Garden itself.

Sculpture may be designed for a location or the location for the art; otherwise suiting one to the other is a matter of accommodation. Because a finished work of art is not modifiable, the challenge for effective placement of a sculpture is to find a place ready to receive it or to modify the landscape to make a site, which may not always be feasible.

The initial cost and maintenance of fine art has caused many residential gardeners to turn to the amiable commodity, "garden statuary," for pleasant ornament. Usually small in scale, it presents sentimental and playful images of animals, nymphs, elves and frolicsome children, as well as religious figures that may be placed devotionally in nooks and grottoes.

This art comes out of mixed traditions, such as Renaissance, baroque, neoclassic, turn-of-century-world's-fair, and roadside concrete casting. The quality range is very broad. Graceful and memorable sculptures for garden sites and intimate fountains have been produced by numerous fine artists, and work in this genre became a specialty, some decades ago, of women asserting rights to a male-dominated art that was considered unladylike because of sculpture's involvement in that period with literal anatomy. Some of them -- notably Janet Scudder and Edith Stevens Parsons -- came into prominence at the St. Louis Louisiana Purchase Exposition of 1904. Quantity production has compromised the quality of some garden statuary, but the home garden is a private realm and the gardener is its monarch.

Sculpture in gardens is traceable far into the past, but gardens with sculpture done as fine art have almost always been the domains of private collectors, with limited public access. Ordinarily the sculpture in private gardens is on public view only to tour groups or when it is loaned to an exhibition or transferred to an institution.

A new phenomenon in this country and abroad is the sculpture park, a museum without walls for public presentation of sculpture, usually modern. In Laumeier Sculpture Park, a St. Louis County institution in Sunset Hills, an inviting landscape of woods, glades, and meadows is adroitly made a stage for sculpture. A single work that needs a broad viewing area can be given an acreage. Some art is commissioned for sites in the Park and some sites are specially prepared, but in general the focus is more on the art than on an entity of art and site.

In the Missouri Botanical Garden, entity of setting and sculpture is the sought-for condition -- the setting enhancing and enhanced by the sculpture, and the simultaneous perception of both enhancing the visitors' experience of the Garden. Within this concept the Garden has installed a substantial variety of traditional and modern art.

Nonfigure design is exemplified in the Ernest Trova Gox #8, an arresting open form in satiny stainless steel, and in John Edgar Goodman's cylindrical spiral, Unicorn Spirit, pierced with symbolic open shapes based on natural forms. Function is elaborated into ornament in Paolo Soleri's bells suspended from a tree-like construction by William C. Severson and Vernon Desmond Gross.

The modern naturalism of seven sculptors is the largest representation in the Garden. In these pieces human and animal figures are treated realistically but with interpretive simplification or emphasis. The most prominent in this family is, of course, the Carl Milles compositions. Other pieces in basin installations are Bather (Grande Baigneuse) No. IV by Emilio Greco, an almost-nude vivacious young woman; Three Sturgeons by Sirio Tofanari, their leaping forms closely linked in arabesques above the water; and the lightly poised Three Graces, by Gerhard Marcks. Paul Granlund's Zerogee is concerned, in three whirling human figures, with the dynamics of swift movement that defy gravity. The movement is quite gentle in the fluttering of Robert Walker's Birds above a drinking fountain, and the figures are at rest in the tender moment of Mother and Child by Marcel Rau.

Four pieces speak for the upper level of quality in traditional garden sculpture. Amphitrite, by Wheeler Williams, is a pool figure of a merbaby listening for sounds within a shell, and Child Sundial, anonymous, depicts a seated youngster languidly touching the time pointer. The outstretched arms of the charming Raffaello Romanelli Fountain Angel function as water conduits to ewers in her hands.

George McCue, 1988

* William Barnaby Faherty, S.J., Henry Shaw: His Life and Legacies. University of Missouri Press, 1987.