Sculpture at the Missouri Botanical Garden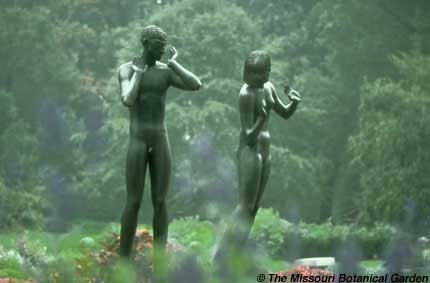 Orpheus Fountain (1936)
Bronze, each figure measures 10 feet 2 inches x 39 x 27 inches
Installed in 1988, on loan from The Gateway Foundation.
a. Long shot looking toward the Spink Pavilion.
b. Close up of Male Orpheus Fountain Figure
c. Another close up of Male Orpheus Fountain Figure
d. Close up of Female Orpheus Fountain Figure
e. Another close up of Female Orpheus Fountain Figure
Artist:
Carl Milles
Swedish (1875-1955)
Born near Uppsala, Sweden.
Became an apprentice to a cabinetmaker and studied sculpture at evening classes. Milles won a scholarship to the Technical School in Stockholm. From Sweden he went to Paris where he attended The Sorbonne, and was eventually admitted to the 1899 Salon. Milles later worked in Auguste Rodin's studio. Rodin strongly influenced Milles' earlier work. In 1931 he held an exhibition at the Art Museum in St Louis, showing 44 pieces, and later became the Artist in residence at the Cranbrook Academy of Art, Michigan. The Millesgården in Sweden then became his studio until his death in 1955.
Location:
Milles Sculpture Garden
Milles created these figures for his splendid fountain at the entrance to the Stockholm Concert Hall. He won a competition for the commission in 1926 with a study for the Orpheus figure, but in the finished conception of a decade later he had replaced abstract plant forms around the base with eight standing figures -- these two among them -- for placement in a circle below the hovering Orpheus' playing of the lyre given to him by Apollo.