Sculpture at the Missouri Botanical Garden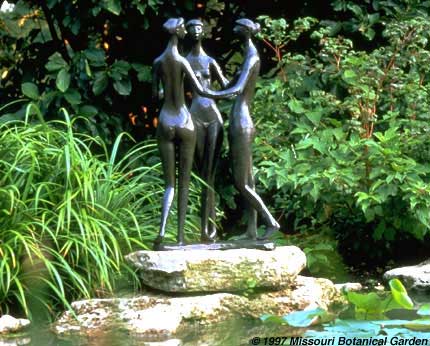 'The Three Graces' (1956)
Bronze, 42 x 23 x 11 inches.
The sculpture had been on loan from Mrs. Thomas S. Hall for several years, but was given to the Garden in 1994 as a memorial to her late husband, Dr. Thomas S. Hall, a Garden Trustee from 1982 until his death in June 1990.
a. Historic view of sculpture at last location

Artist:
Gerhard Marcks
German (1889-1981)
Born in Berlin, Germany, Marcks was associated with the Bauhaus group at Weimar in the 1920s. His work was suppressed by the Nazis, but after World War II he executed war memorials in various German cities. In later life, Marcks worked with lighter forms, largely nudes, several of which are in St. Louis collections.

Location:
English Woodland Garden.

The modern restatement of a classical theme treats the linked forms with expressionist simplification.