Sculpture at the Missouri Botanical Garden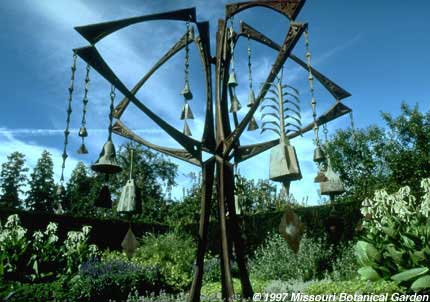 'Bell Chimes' (1986)
Bronze, 8 feet 8 inches x 8 feet 2 inches x 7 feet 6 1/2 inches
Installed 1986 as a gift from Mrs. E.F.Zimmerman in memory of
Susannah F. Mack and Lillian C. Lowis.

Artists:
Soleri designed the Bells and Severson and Gross designed the tree-form sculpture.
Paolo Soleri
Italian (b. 1919)
Born in Turin, Italy, Soleri studied architecture and served two years under Frank Lloyd Wright at Taliesen West, Arizona. Since the 1950's he has been developing innovative construction techniques for high-density, low-environmental impact communities.
William C. Severson
American (b. 1924)
Born in Madison, Wisconsin, Severson studied at Syracuse University, and became assistant to Ivan Mestrovic at Notre Dame University. In his Chesterfield studio, St. Louis County, Severson has done sculpture for churches, industrial courts, business sites, and plazas.
Vernon D. Gross
American (b. 1953)
Born in St Louis, Missouri, Gross studied sculpture and metalsmithing at Washington University. Gross' work ranges from jewelry to large institutional and public pieces.

Location:
The Zimmerman Scented Garden

The Soleri bells in the Zimmerman Scented Garden, suspended from a tree-form sculpture by Severson and Gross, provide pleasant sounds and forms for touching.