Sculpture at the Missouri Botanical Garden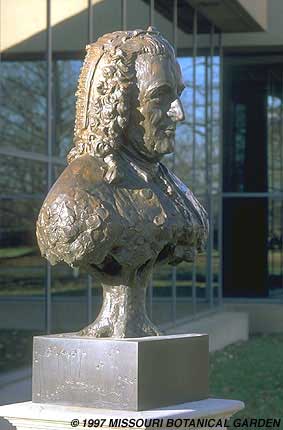 Bust of Linnaeus
Bronze
Installed as a gift from Mr. S. Shoenberg in memory of his wife, Mrs. Sydney M. Shoenberg, Jr. Mrs. Shoenberg was an active Garden volunteer and her husband, Sydney, has served as a member of the Board of Trustees since 1972.

Artist:
Paul Granlund
American (b.1925)
Born in Minneapolis, Granlund graduated from Cranbrook Academy of Art, and studied in Florence and Rome. He then taught at Washington University in St. Louis, and since 1971 has been the Sculptor In Residence at Gustavus Adolphus College.

Location:
Northeastern corner of the Lehmann Building

A bronze bust of Carl Linneaus, a Swedish naturalist, whose monumental published work, Species Planatrum, became the official starting point for plant nomenclature. Henry Shaw named the Linnean House in his honor.