Sculpture at the Missouri Botanical Garden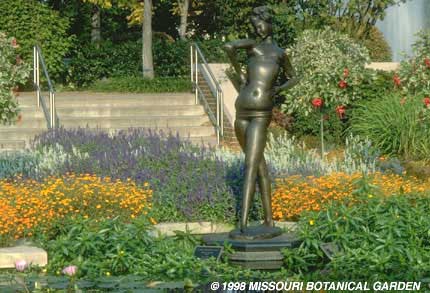 'The Bather' (Grande Baigneuse)
No.IV (1959)
Bronze, 72 inches
Installed in 1987 as a gift from Patrica Aloe Tucker.
a. Long view of back of Sculpture

Artist:
Emilio Greco
Italian (b.1913)
Born in Sicily, Greco was largely self taught. Well known works of art are his Monument of Pope John XXIII in St Peter's Basilica and Monument to Pinocchio in a children's park in Collodi, Italy.

Location:
Bakewell Court

Several versions of this sprightly figure are in public and private collections in this country and abroad; in all, there are ten small variations. Greco conceived of them as "like dancers, demonstrating the harmony of movement, mood and spirit."