Sculpture at the Missouri Botanical Garden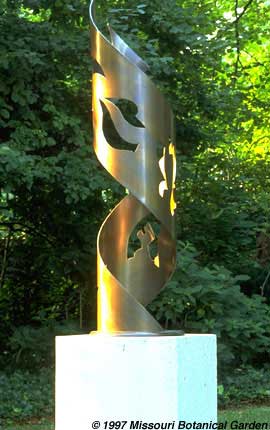 'Unicorn Spirit' (1982)
bronze, 65 x 15 inches
Installed 1984 as a gift from Stanley J. Goodman in memory of Alice Hahn Goodman.

Artist:
John Edgar Goodman
American (b.1950)
Born in St Louis, Missouri, Goodman studied under the Spaniard Eduardo Chillida at Harvard. He was technical director of crafts at Parsons School of Design, New York, and designs jewelry.

Location:
Near Goodman Iris Garden

The rising form is applied as a symbol of life, both from the the mythology of the Unicorn's horn and from the double helix of the DNA molecule, which contain the genetic code of life. Abstract cutout shapes allude to art work of Mrs. Goodman, wife of the donor and mother of the sculptor.