Sculpture at the Missouri Botanical Garden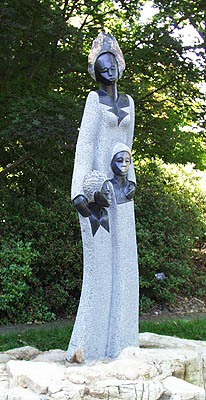 'Sole Provider' (2001)
Springstone
Presented by the People of Zimbabwe and the Chapungu Sculpture Park
in memory of those who perished on September 11, 2001,
a gift to the People of the United States for the Missouri Botanical Garden.

Artist:
Joe Mutasa
Zimbabwe (b. 1964)
Born in Rusape, Zimbabe into a family of sculptors, Mutasa initially carved representational heads and figures for the tourist trade. At Chapungu Sculpture Park, he was encouraged to create art rather than to mass produce repeated themes. In 1997, three of his large works were included in the Kirstenbosch Chapungu show in Cape Town, South Africa to much acclaim. He prefers the hardest stones - springstone, granite, lepidolite and dolomite - and is inspired by family, daily life and the environment.

Location:
The Lopata Azalea/Rhododendron Garden

The Chapungu - Custom and Legend: A Culture in Stone exhibition from the Chapungu Sculpture Park in Harare Zimbabwe visited Missouri Botanical Garden from April 28 to October 7, 2001. This exhibition showcased 66 inspiring hand-carved stone sculptures created by Zimbabwean artists.

"Everyone in my community is my family. In hard times, we support each other. Also part of this family are those who have passed on - they are now our guiding spirits. Our families are strong, large in numbers and very supportive."

"Sole Provider" depicts a woman and her children after her husband was killed in the war. This touching sculpture is made more poignant by the fact that it was donated by the Chapungu Sculpture Park in memory of the lives lost on September 11, 2001.