Sculpture at the Missouri Botanical Garden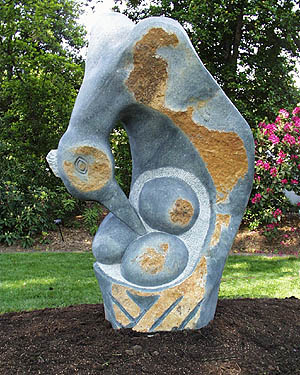 'Protecting the Eggs' (2002)
Opalstone
Commissioned and installed in 2002
in loving memory of Marjory Kassabaum Graff from her family.

Artist:
Damian Manuhwa
Zimbabwe (b. 1952)
Born in Rusape, Zimbabwe, Manuhwa is a much respected first generation artist with a long and dedicated career. Generally he finishes and polishes his work to perfection, but his recent sculptures experiment with texture, unpolished and unworked surfaces. Manuhwa has encouraged and supported many young artists, and his works are included in all major Chapungu exhibits.

Location:
The Lopata Azalea/Rhododendron Garden

The Chapungu - Custom and Legend: A Culture in Stone exhibition from the Chapungu Sculpture Park in Harare Zimbabwe visited Missouri Botanical Garden from April 28 to October 7, 2001. This exhibition showcased 66 inspiring hand-carved stone sculptures created by Zimbabwean artists.
"In our culture, legends and tales abound about the trees, plants, animals, insects, reptiles, and birds. They are an integral part of our history and culture and their lives and ours intertwine and interact. We live together in natural harmony."
"We humans should protect and nurture our environment in the same way as a bird protects her eggs".