Sculpture at the Missouri Botanical Garden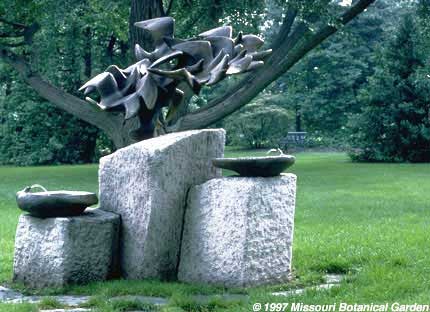 Birds (Waldemer Memorial Fountain)(1975)
Bronze, Tennessee marble bases and benches.
Sculpture and base 76 x 61 x 30 inches,
Installed 1976 as a gift from Mr. and Mrs. Edwin R. Waldemer.

Artist:
Robert Lee Walker
American (b.1922)
Born in Poplar Bluff, Missouri, Walker studied at Washington University and Cranbrook Academy of Arts, and taught at the John Burroughs School in Ladue from 1950 until his retirement in 1987. He became the Artist in Residence at Burroughs until 1993 and continues to teach some courses at the school.

Location:
Lehmann Rose Garden

A ginkgo tree at the assigned site influenced the composition of clustered bird forms. The rough-cut angular blocks, closely fitted without mortar, support the bronze elements, which includes two bubbler drinking fountains with outlets in the form of bird bills. The benches are irregular blocks placed with calculated casualness.