Sculpture at the Missouri Botanical Garden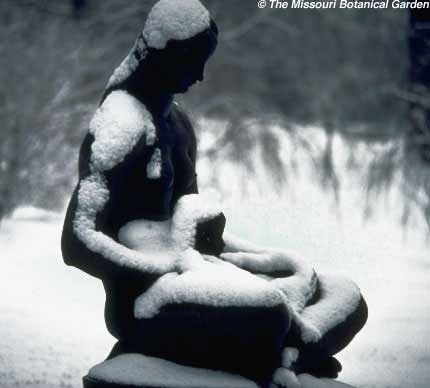 Mother and Child (1929)
Bronze, 56 x 36 x36 inches
Installed in 1979 as a gift from David Baron.

Artist:
Marcel Rau
Belgian (1886-1966)
Rau was born in Brussels. Rau studied under Paul Dubois at the Ecole des Beaux Arts, and in 1911 won the Prix de Rome. He executed war memorials at seven Belgian cities, and did portraits and independent works.

The baby is cradled with tender but unaffected solicitude in the lap formed by the mother's crossed legs, both the mature and infant figures being represented quite naturally. The decisive contours, fullness of volume, and serene spirit suggest affinity with Aristide Maillol.

Location:
Between the Climatron® and the Mausoleum Garden