Sculpture at the Missouri Botanical Garden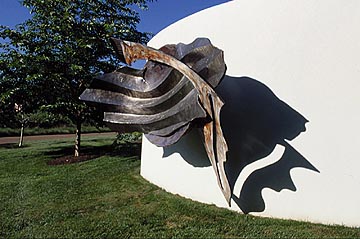 Stubb's Supper
Large relief of painted metal
Lent by the Greenberg Van Doren Gallery from July 1998 to 2000. A generous grant from the David B. Lichtenstein Foundation provided support to purchase and endow the sculpture in late 2000. The David B. Lichtenstein Foundation, a nonprofit, charitable corporation, was established in 1947. The organization operates primarily to fund capital projects with educational, scientific, religious, charitable, and literary purposes in Missouri.

Artist:
Frank Stella
American
Born 1936.
Frank Stella is widely renowned as one of America's greatest contempory artists. His works often combine sculpture and painting, using abstract forms to convey an image or narrative. Stella studied at Philips Academy and Princeton University.

Location:
Between the Boxwood Garden and the Japanese Garden

"Stubb's Supper" is one of a series of 135 works Stella based on each chapter of Herman Melville's Moby Dick .