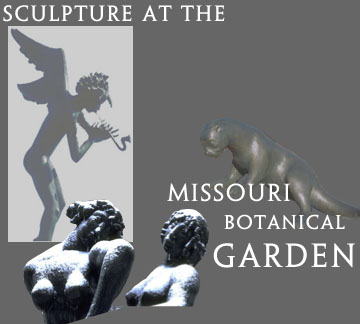 Acknowledgements
The text in this website was created extensively using the 1988 publication Sculpture at the Missouri Botanical Garden. Most of the photographs were taken by Jack Jennings. Many images were edited by Fiona Purvis, a volunteer with the Garden. Leslie Miller designed the site and edited the text and some images. Nan Winkelmeyer helped out with typing and proof-reading.
The original publication, Sculpture at the Missouri Botanical Garden, is obligated to the various people listed below. James D. Burke, director of the St. Louis Art Museum and president of the Gateway Foundation, for valuable counsel and for material on the Carl Milles figures, and to Laura Lewis Meyer, Curatorial Assistant, Director's Office, for documentation.
The Garden extends special recognition for invaluable assistance to Mary Jane Kirtz, who did the initial research on the Garden's sculpture as background for tour guides, and to Koichi Kawana, who reviewed the sections in the Japanese Garden.
Among those of the Missouri Botanical Garden staff who were of substantial aid, those most directly involved were Marcia M. Kerz, Director of Development, who coordinated the catalog's organization; Susan Wooleyhan, editor of the Bulletin, who edited the catalog; Marshall R. Crosby, Director of Botanical Information Resources, who provided editorial assistance; and Martha Riley, Archivist.
The sculpture collection itself reflects the devoted concern of the former Director of Planning and Development, Patricia Rich, for correspondence with prospective donors; the late Alan Godlewski, who as Director of Horticulture took a keen interest in the preparation of sites; Paul Brockmann, Director of General Services, for the coordination of the installation of the Milles pieces; and Geoffrey L. Rausch, of Environmental Planning & Design, Pittsburgh, who has been instrumental in site selection. The collection receives curatorial maintenance from the Washington University Technology Associates Sculpture Conservation Laboratory.