Garden Home | Research Home
Gazetteer to Malagasy Botanical Collecting Localities
George E. Schatz (MO) and Michèle Lescot (P)
Compiled and edited by: Zachary Rogers (MO), Kendra Sikes (MO), Sylvie Andriambololonera (TAN), Jeannie Raharimampionona (TEF), Anne-Elizabeth Wolf (P).
---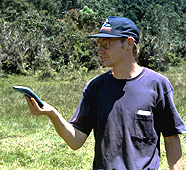 Mapping Biodiversity
Primary occurrence data – herbarium specimens – form the underlying basis of the taxonomic frameworks that define plant biodiversity, and also document the spatial distribution of species and other taxa. Geographical Information Systems (GIS) technology now facilitates rapid mapping and analysis of species distributions in relation to environmental and physical parameters, which in turn allows the modeling of potential distribution.

Mapping biodiversity based on primary occurrence data is an essential first step in evaluating the conservation status of species, and potentially reveals centers of species richness and endemism critical for conservation planning. However, most historical collections lack geographical coordinates and are therefore unavailable for automated mapping. As part of the Madagascar Conspectus Project, a collaborative effort of the Missouri Botanical Garden, the Laboratoire de Phanérogamie of the Muséum National d'Histoire Naturelle (Paris), the Parc Botanique et Zoologique de Tsimbazaza (Antananarivo, Madagascar), and the Département de Recherches Forestière et Piscicole, FOFIFA (Antananarivo, Madagascar), we have systematically been assigning post facto geographical coordinates to historical specimen records. In the process, we have compiled a Gazetteer to Malagasy Botanical Collecting Localities that is derived directly from specimen label data.

To search the database of over 3,500 Place Names, type the name in the box above. All entries matching the search criteria, including those in which the search string is embedded, will be returned. Duplicated Place Names – a common occurrence in Madagascar – may then be distinguished based upon their Province, associated Secondary Place Name, or Specimen Voucher. Abbreviations in the Province and Place Name Type fields, as well as miscellaneous words and abbreviations, can be translated into pop-up windows.

Development of the Gazetteer
Place Names in the Madagascar Gazetteer have been derived directly from specimen labels. Included are the localities of all specimens collected in the past decade by MBG collectors and associates, for which labels were generated by the TROPICOS database system; the majority of these had coordinates assigned by the collector, the most recent of which have been derived in the field using GPS units.

Three sets of historical specimens provide most of the remaining Place Names: Humbert's 23,600 collections; the ca. 13,000 collections in the Réserves Naturelles (or RN) series; and the ca. 33,000 collections in the Service Forestier (or SF) series. Coordinates have been assigned post facto using modern and historical maps, as well as the USGS Gazetteer. In general, post facto assigned coordinates have an accuracy of plus or minus one minute of latitude or longitude, i.e., a Minimum Mapping Unit (MMU) of one minute of latitude or longitude, or approximately 2 km in Madagascar.

In the case of the Réserves Naturelles series, collections are assumed to have been made within the historical network of Réserves Naturelles Integrales (RNI) based upon the District and Canton place names on labels that can be associated with each reserve. The ranges of latitude and longitude that encompass each RNI, as well as the centroid of each reserve polygon, are given. Coordinates are also listed for the two other types of protected areas (Parcs Nationaux [PN] and Réserves Speciales [RS]), as well as the Stations Forestières (STF).
---