1900 (Moscow Province)
1898 (Ryazan Province)
1916-1917 (Crimea)
East Europe: Central Russia (mainly Moscow Province), Ukraine (Crimea)
Petunnikow A.N. and others
Herbarium of Moscow flora: 1111 species - over 6000 numbersIn addition, the herbarium included more than 11 small collections by other persons.
1914 - Herbarium of Moscow flora
1916, 1918 - Crimea
Herbarium of Moscow flora was purchased by the Botanical Museum.
Section of East Europe
Sizes of sheets: 42-42.5 x 27.5-28.5 cm
Features of appearance: Fair labels are written on printed form-sheets with the title: "Herbarium of A.N.Petunnikow".
Additional Infromation: A part of Petunnikow's collections was published as exsiccata: "Herbarium Florae Rossicae". The herbarium of Moscow flora made a base for the work: Petunnikow A.N. Critical review of the Moscow flora. Parts 1-3. 1896-1901. Also it was used in preparation of the work: Syreishchikov D.P. Illustrated flora of the Moscow Province / Ed. A.N.Petunnikow. Parts 1-4. 1906-1914.
Lipschitz S.Ju., Vassilczenko I.T. Herbarium centrale URSS. Leningrad, 1968. 142 p.
Lipsky W.J. Herbarium Horti Botanici Imperialis Petropolitani (1823-1908). Ed.2. Jurjev, 1908. 238 p.
Lipschitz S.Ju. The Moscow botanists D.P.Syreitshchikov (1868-1932) and A.N.Petunnikov (1842-1919) // Bull. Soc. Nat. Moscou. 1968. Vol.73, N 4. P.5-23.
Sokolova I.V., 2005
(Representative specimen)
(Representative specimen)
(Representative specimen)
(Representative specimen)
(Representative specimen)
(Representative specimen)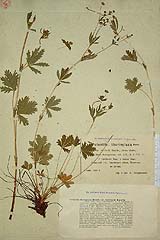 (Representative specimen)
(Representative specimen)
(Representative specimen)
(Representative specimen)
(Representative specimen)